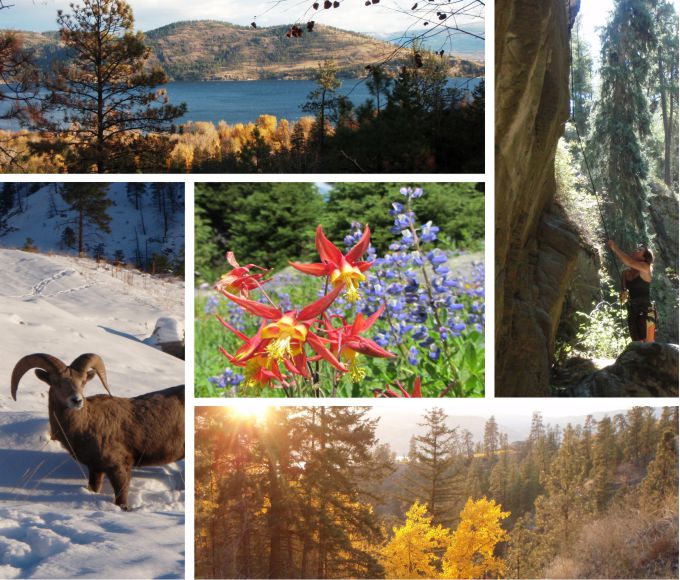 Check out the new South Okanagan Trail Alliance website
Welcome to SweetSingletrack.ca, the Okanagan's most comprehensive online repository of trail information. This website provides you with downloadable GPS & Google Earth files, maps, images and comprehensive trail descriptions representing 82 chapters of a "digital book".
SweetSingletrack.ca encompasses nearly 400 trails; N-S between Oliver and Kelowna, E-W from Apex Resort to Road #201. Bits of local history and interesting articles are also included as are several 'road trip' additions.
A $10 fee entitles you to one year of unlimited access to this comprehensive database. Check out a sample chapter, sans GPS data here or have a peek at the complete trail listing here. .New trails are frequently added.
The site is designed and formatted to render on computers, tablets and smartphones, enabling map and text viewing, along with your current location via downloadable GPS and Google Earth tracks while in the field.
Those wishing access may click on the PayPal link below, or if you already have an account, by clicking on the main image above. Upon receipt, I will email you with a username and password, enabling site login.
Payment may also be "snail-mailed" to Andrew Drouin, 601 Braid St., Penticton BC V2A4Y6. Questions / Comments? Ph. 250.486.2443
Access fees are spent on many aspects of trail maintenance and marking. As such, your $10 ends up as a donation to valley trails
Please be aware that we're "on manual" around here. As such, it may take me a few hours to create a username and password, then get back to you with this information. I'm likely in the mountains right now :-)
Entire Domain Contents Copyright Andrew Drouin 2014